In This Section
Products & Services
Trade Show Display Booths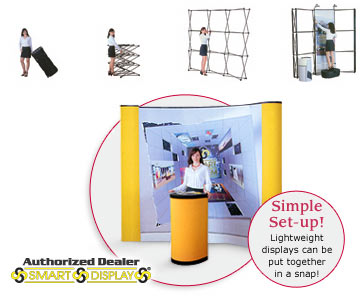 The successful trade show is an international phenomenon—an invaluable venue for meeting potential customers—and for letting them see, touch, and learn about your products. TruSynergies creates, sells, and rents a wide range of display configurations, from counter and table-top set-ups to 20-foot-long booths. Once printed graphics are produced and installed, we can ship the hardware—booths and banner stands—within 24-48 hours.
We'll get you up and running with your first exhibition booth, and then help you "take it to the next level" when you're ready for expansion. TruSynergies sells and rents Smart Displays, an Italian designed and manufactured line of unique products and accessories with the capability to be customized to the clients needs. Designed to grow along with your company, Smart Display's booths easily expands by adding components to those already in place. Any size booth can expand to a larger booth, whether it is a table top unit expanding to a 10' unit or a 10' unit expanding to a 20' unit, the possibilities are endless. This system both protects your initial investment and ensures your booth against obsolescence.
The skeleton of each Smart Display booth is one of its five models of flexible, durable aluminum pop-up frames in contours ranging from straight lines to hard curves, in standard or extra-thin depths. These basics can be combined to create many practical and imaginative configurations. But the real advantage of Smart Display's system is its accessories. Shelves, showcases, brochure holders, backlits, and many other options work in concert to address all your needs—ensuring that the form and function of your booth make it an indispensable sales and marketing tool.